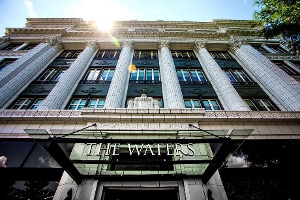 HOT SPRINGS, Arkansas—Denver-based 5 Senses Hospitality announced its investment in The Waters Hotel, Tapestry Collection by Hilton. 5 Senses Hospitality has been managing the property since early 2022.
"Since we first became involved, we have been continuously impressed with the hotel, its leadership, and the support of the surrounding communities," said Chris Manley, founder and president of 5 Senses Hospitality. "We are very fortunate to have made a meaningful investment in this award-winning property."
Located In Hot Springs National Park, the 62-room boutique hotel maintains the nature of the Thompson building that was built in 1913 on Bathhouse Row. Originally used to house doctors' offices, the property later transformed into a hotel and apartments. Over time, the structure eventually deteriorated, and its restoration came through a partnership between local architects Bob Kempkes and Anthony Taylor, and investment banker Robert Zunick who purchased the building in 2014. The $7 million renovation was completed in October 2015 preserving the original marble and tile, as well as many fixtures.
More than 100 years later, the Waters Hotel provides guests with a walk-through history as details and artwork by local and regional artists are seen throughout. The property also provides guests with amenities such as a full-service restaurant, lounge, and rooftop bar.
"We are thrilled to have 5 Senses Hospitality join in the recapitalization of The Waters Hotel, as we remain a meaningful investor," said Zunick. "We look forward to continuing to see the hotel, and the community we call home flourish."