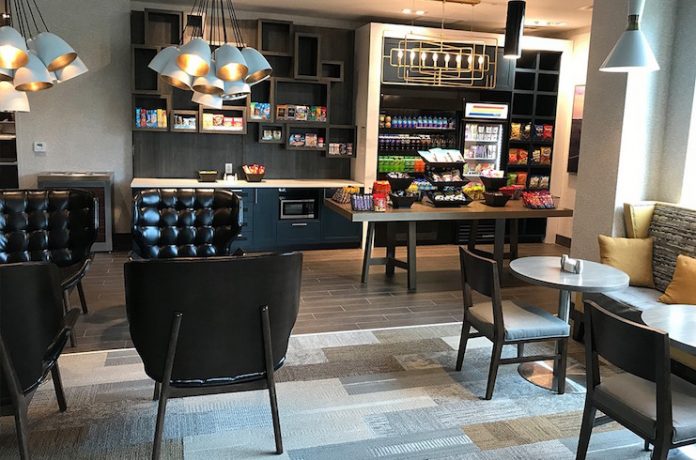 Hoteliers across the country have adjusted their menus in on-property restaurants and cafes to cater to the demands of today's traveler's for unique F&B options while they're on the run. But this trend isn't exclusive to on-site dining outlets—it also extends to lobby stores, particularly when guests are looking for quick bites to keep their hunger at bay and their thirst quenched.
Easily accessible lobby retail stores should be a guest's first choice for snacks—not the convenience store down the street. Hoteliers must be mindful of the food and beverage selection in these on-site retail spaces. Adding the right variety of items makes all the difference in guest satisfaction and increased profits for the hotel.
Guests on the go might not have time to eat a proper meal and, instead, rely on the hotel lobby retail store to satisfy their needs as they move throughout their day. Provide an array of grab and go options that differ from what a guest can get at the nearest fast food chain. Fresh items—such as cold cuts, sandwiches, and parfaits—make great additions to hotel lobby retail, as these items are considered "healthier" options by guests. Rather than "settling" for chips and a soda, guests—and often hotel staff—often opt for more substantial food and drink options that will sustain them throughout their day.
2
Locally Sourced Food and Beverage
Whether staying at a hotel for business or pleasure, many modern travelers want to feel like they are experiencing the place where they are visiting. Giving these guests the opportunity to try local favorites plays into that guest experience. Hoteliers should be cognizant of this trend and strategize with local vendors to stock lobby stores with locally sourced produce, snacks, and beverages. Adding these items to the lobby retail store may also enhance local opinions on the hotel.
In addition to providing uniquely curated food and beverage options, hoteliers must be mindful of how those items are displayed throughout the lobby retail store. Showcasing distinctive items in ways that immediately attracts guests can drive sales. Merchandising specialty items in places near more common items could eliminate the amount of time it takes for guests to choose their purchases and keep them coming back to try out other new items.
Incorporating these three F&B elements will make for a more intriguing hotel lobby retail store and could, ultimately, lead to increased sales.