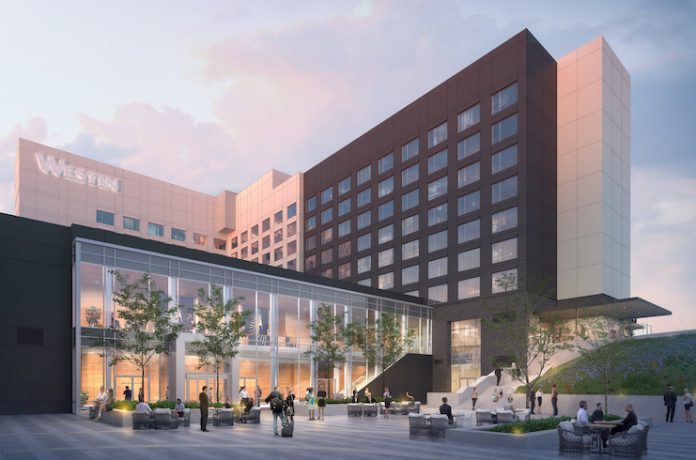 GWINNETT COUNTY, Georgia — The Westin Atlanta Gwinnett, located on the campus of the Gas South District near Duluth, Georgia, celebrated its official topping off. The 11-story, 348-room hotel is on track to open in the spring of 2024.
With 12 event rooms totaling more than 27,000 square feet, the Westin Atlanta Gwinnett will serve as a venue for social and corporate events. The property's catering team will leverage planning expertise and customize menus, including passed appetizers, multi-course plated dinners, market-style buffets, and chef-attended stations. The hotel's event space is flexible, with the ability to host groups of up to 800 attendees. Two hospitality suites will be available as well, with outdoor terraces, including one presidential suite with a private terrace, four executive suites, and six standard suites. 
Additional hotel amenities include a Starbucks, two restaurants, an indoor pool, a fitness center, and an outdoor fire pit. Overstory, a rooftop bar, will offer a selection of craft cocktails. Menus at all of the hotel's food and beverage venues will reflect seasonal offerings, with an emphasis on local and sustainable ingredients. The food scene will have a mix of shareable plates and large-format offerings. With three serving locations, Overstory can accommodate hundreds of guests for private events.
The Westin Atlanta Gwinnett is situated within the 118-acre campus of the Gas South District, which includes the Gas South Convention Center, Gas South Arena, Gas South Theater, and the Hudgens Center for Art & Learning.
"The Westin Atlanta Gwinnett, and its proximity and connectivity to the Gas South District, completes such a valuable asset that we have desired for such a long time," said Stan L. Hall, CEO of Gas South District. "A true headquarters hotel scenario on our campus puts us in a position to be extremely competitive for any style or sized convention or event looking for a location in the Atlanta market. Furthermore, the Westin flag, and the level of excellence that the brand brings with it, is an absolute bonus. We could not be more excited about the potential that this great connection and partnership brings."
"We are delighted with the ongoing development of this outstanding hotel and look forward to contributing to the success of Gas South District as a premier meetings, event, and entertainment destination," said Mark Laport, president and CEO of Concord Hospitality Enterprises, the developer and future operator of the hotel.
"On behalf of the entire Marriott team, I am thrilled that we are on track for a grand opening in 2024," said Lisa Sexton, vice president, full service hotel development, for Marriott International. "We look forward to welcoming the very first guests at our beautiful new Westin hotel next spring."  
The development of the Westin is led by Raleigh-based Concord Hospitality and joint venture general contractor WM. A. Randolph Inc. and Shell McElroy Construction Company.