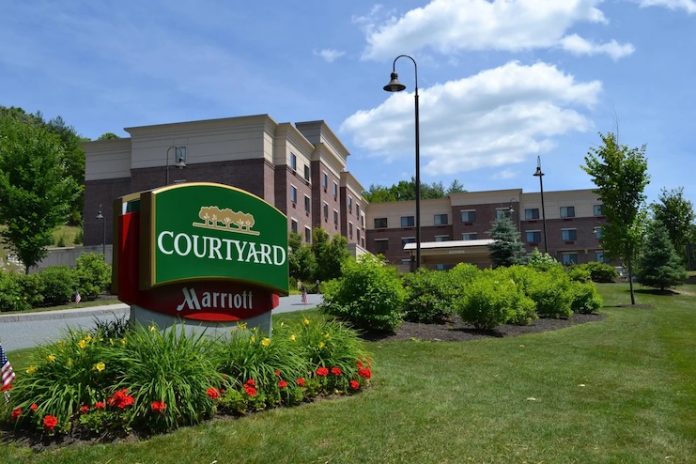 DENVER, Colorado—Mission Hill Hospitality, a KSL Capital Partners portfolio company, announced it has acquired the Hanover Lebanon Courtyard by Marriott, a 124-key property located in Lebanon, New Hampshire. This is the company's first investment in New Hampshire and its seventh in New England. Hanover Lebanon Courtyard by Marriott is the 25th hotel added to the Mission Hill Hospitality portfolio since the company was launched in March 2021. The terms of the deal were undisclosed.
"This acquisition supports our continued growth strategy of investing in premium-branded, select-service hotels located in diversified markets, particularly those driven by education, medical, corporate, and leisure demand," said Mike Wilbert, managing director, Mission Hill Hospitality. "The Lebanon area is experiencing significant growth and development, and this asset is well positioned to meet expanding needs."
Hanover Lebanon Courtyard by Marriott is in proximity to both Dartmouth College, located less than three miles away, and the Dartmouth Hitchcock Medical Center, located across the street. Both are currently undergoing expansion projects. Dartmouth College, with an enrollment of approximately 6,600 students and nearly 3,000 staff, is underway on the construction of a new Center for Engineering and Computer Science. The project includes 450,000 square feet of new building space, a 340-car parking garage, a loading dock, and an extension of campus utilities to enable future expansion plans. The 396-bed Dartmouth-Hitchcock Medical Center, to which the Hanover Lebanon Courtyard is the most proximate hotel, is constructing a new patient pavilion that will occupy 212,000 square feet over a five-story structure and add 112 patient beds. Construction is expected to be completed in early 2023. Corporate employers with offices nearby include Novo Nordisk, Siemens, and TomTom, among others.
Hanover Lebanon Courtyard by Marriott has nearby leisure locations, such as the Lebanon Opera House and the Montshire Museum of Science. The hotel also provides access to a variety of popular ski areas in the White Mountains, a major East Coast skiing hub that attracts over one million skiers each year. Additionally, the hotel is located seven miles from the White River Junction Amtrak station and four miles from the Lebanon Municipal Airport.
Originally developed in 2006, the property will undergo a renovation of guestrooms and public space to meet the needs and expectations of today's travelers. The hotel offers a mix of guestrooms and suites, including accessibility features, an indoor pool, a whirlpool, a fitness center, a 24-hour business center, and 2,500 square feet of meeting space.