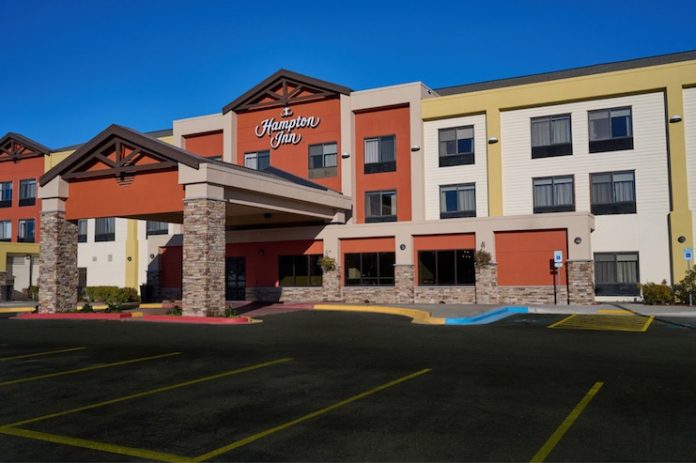 ANCHORAGE, Alaska—Columbia Sussex completed a renovation to its two extended-stay properties, including Homewood Suites by Hilton and Hampton Inn. The renovations included upgrades to the lobbies and public spaces, dining areas, guestrooms, fitness centers, and meeting spaces.
Located in the midtown section of Anchorage, both properties are located near Ted Stevens International Airport, and within walking distance of several restaurants. In addition, the properties are close to the Alaska Zoo, the Imaginarium Discovery Center, the Alaska Native Heritage Center, the Anchorage Museum, and multiple hiking trails.
Homewood Suites Anchorage's 125-room renovation includes:
Public spaces were reimagined with new amenities
The lobby was redone with new finishes and furniture
Corridors were outfitted with carpeting, wall coverings, and lighting fixtures
Suites were refitted to offer furniture such as dining room chairs, sofa beds, and lounge chairs
Homewood Suites Anchorage offers studio, one-bedroom, and two-bedroom suites, all of which include kitchens with microwaves and refrigerators. The hotel offers daily hot breakfast, a manager's reception on Wednesdays, and an on-site pantry. The hotel also offers a fitness center including Peloton bikes, an indoor pool with a hot tub, and three meeting rooms with a catering menu for groups of up to 80.
The Hampton Inn's 101-room renovation is part of the brand's redesign that updated exterior, public space, and guestroom designs with Hampton by Hilton's Casual Design option for its guestrooms and Confident Design scheme for public spaces. The renovations feature:
New exterior façade with lighting, design and paint scheme, a porte cochere, and windows
Public spaces include a revamped lobby, front desk area, corridors, and meeting rooms with new signage and décor
Guestrooms are redesigned with warm color palettes, bedding, and alterations such as mounted TVs, storage units, and a desk area
Within each bathroom is new lighting, décor, and bath fixtures
The pet-friendly Hampton Inn's amenities include breakfast, breakfast to-go bags, pool and fitness center access, and WiFi. The hotel is off Seward Highway, seven minutes from the Anchorage Museum and Anchorage 5th Avenue Mall.