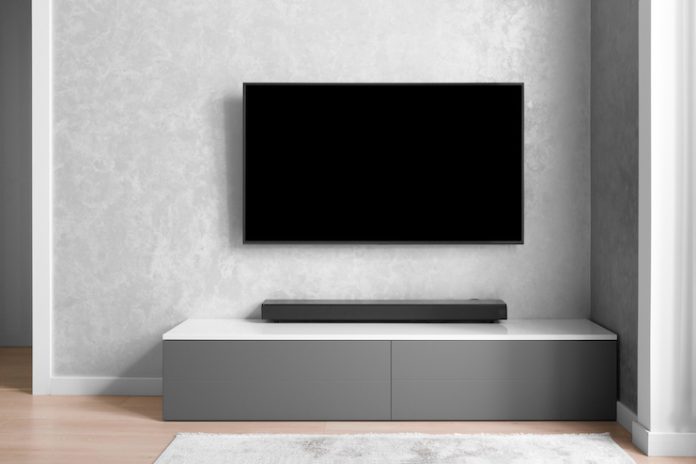 AMSTERDAM—PPDS announced the launch of the two-in-one Philips Professional Soundbar HAL5023 with built-in subwoofer, designed for Philips MediaSuite TVs. Continuing PPDS' all-encompassing strategy, the Philips Professional Soundbar combined with Philips MediaSuite delivers an audiovisual experience in hotel guestrooms.Designed and built in collaboration with TP Vision's Philips sound team, the trapezoid-design has a 2.1 channel setup and a built-in subwoofer.
Back-end controls through Philips MediaSuite TVs also allow for configurations to be put in place, including volume limits. The freestanding or wall mountable soundbar can be configured using the setup menu on the TV. All related settings can be copied and transferred to the TV fleet remotely through cloning via PPDS CMND.
Removing the need for multiple controllers, the Philips Professional Soundbar can be controlled using the standard Philips MediaSuite TV remote. Alternatively, the Philips Soundbar can double as a speaker system for guests wishing to play their preferred music, podcasts, and radio stations via apps and accounts on their own personal devices.
With security a key feature on all PPDS solutions, customer data, including Bluetooth pairing information from personal devices, is cleared upon check out from the hotel.
Jeroen Verhaeghe, global business development director hospitality, commented, "Philips MediaSuite was designed to enhance and, in many aspects, reinvent the hotel room experience, accommodating all the features and services guests are accustomed to in their own homes, within the hotel room."
Jan van Hecke, global product manager professional TV, added, "With Philips Professional Soundbar, the in-room experience, for many, can now surpass that enjoyed at home, changing guests' perceptions of hotels, and helping to ensure positive reviews and repeat business."
The Philips Professional Soundbar is due to be available in warehouses Q4, 2023.