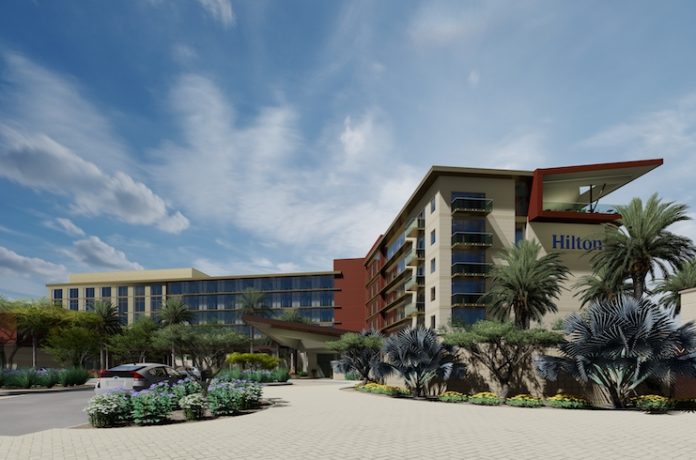 SCOTTSDALE, Arizona—Nationwide Realty Investors announced the opening of the Hilton at Cavasson. The property is owned by Nationwide Realty Investors and managed by Columbus Hospitality Management.
"We are thrilled to open the Hilton at Cavasson and welcome guests to this outstanding project," said Brian J. Ellis, president of Nationwide Realty Investors. "The opening of North Scottsdale's premier hotel is another major milestone as we bring to life our full vision for this development. Cavasson is already the region's leading business district—now it's a true destination."
The six-story Hilton at Cavasson has 237 guestrooms, resort-style amenities, and a 15,000-square-foot event center. The full-service property also has a top-floor event space and terrace, the Desert Pony Tavern serving guests and the surrounding community, a coffee shop, a fitness center, a swimming pool, and landscaping throughout.
The property's location positions it to host guests attending events held frequently throughout the region, as well as those located within a mile from the project, including the Phoenix Open.
"The timing of our grand opening couldn't be better with the upcoming Super Bowl LVII, NCAA Final Four, and Waste Management Phoenix Open all converging on the greater Phoenix market in 2023," said Sally Shaffer, general manager at the Hilton at Cavasson. "The hotel has so much to offer local, regional, and national visitors—from our unparalleled views, elevated food and beverage options, a large conference space for corporate events, and elegant spaces for social gatherings of all sizes."
Scottsdale's newest bar and restaurant, the Desert Pony Tavern, is a Southwest-inspired gastropub located within the Hilton with an open-air style dining experience integrated with the hotel's pool. The menu has casual options by Executive Chef Joseph Mills, designed to complement the tavern's cocktail offerings and beer and wine list.