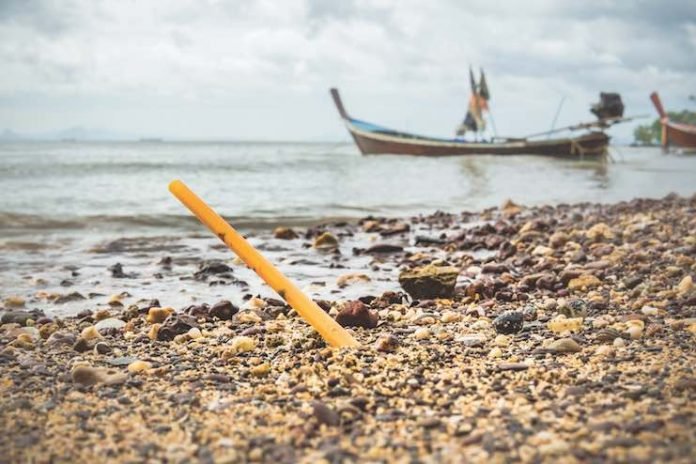 It's no secret that items made from single-use plastic are bad for the environment. Luckily, as the topic gets more attention on a global scale, big companies are taking the initiative to reduce their overall plastic waste. Companies across all kinds of industries are changing from plastic convenience items to mostly paper-based substitutes, and Starbucks—the biggest major company to announce a switch—is replacing its plastic cups and straws with paper.
Of course, the hospitality industry is following suit. Several major hospitality companies, including Marriott, Hyatt, Hilton, MGM Resorts, Two Roads Hospitality, Great Wolf Lodge, and Hard Rock Hotels, have announced moves away from single-use plastics, and straws in particular.
Denise Naguib, vice president, sustainability and supplier diversity at Marriott, says, "We wanted to ensure that we're not only changing the number of straws that we use, but that we move to a product that is much better for the environment. Holistically, we're ensuring we're not creating pollution or materials that are only used one time but last forever in the environment."
Plastic straws are particularly nefarious. They cannot be recycled due to their size and shape; the material gets caught in recycling machines and does not decompose. And because they are light, they tend to blow in the wind and end up in beach areas.
Alternatives to plastic straws include primarily paper-based and wax paper-based materials. In fact, according to Naguib, there is a paper-based straw shortage because so many companies are changing from plastic.
There are also reusable options—many luxury hotels are implementing reusable straws for higher-end cocktail or bar outlets, including ones made from stainless steel, glass, or bamboo. And there is always room for innovation. "We're working with a startup company to create a seaweed-based straw that's edible. From an environmental perspective, it acts like a plastic straw but it's both edible and fully compostable if it does happen to get into the ocean," Naguib notes.
Although removing plastic straws from hotels may seem like a simple and straight-forward process, there are some complications. First, is how to manage existing inventory. Marriott is allowing hotels to run through plastic products that have already been purchased. While the replacement is already a brand standard, hotels have until July 2019 before they will be audited for compliance. Marriott is auditing straws in support of Serve 360—the company's sustainability program—which plans to reduce landfill waste by 45 percent.
There's also the fact that people with disabilities, as well as others, may rely on plastic straws to be able to safely drink. As such, hotels should keep some plastic straws in stock to give out upon request.
Sustainability efforts and strategies are very important to the hospitality industry and vacation destinations. Naguib says, "We've been launching programs, processes, and governances across this new structure to help show customers that this matters to us. We absolutely care and understand that because it's important to our guests, it's important to us, and it's part of our core values as a company."