DENVER–Construction is underway on Stonebridge Companies' dual-brand Hilton property in downtown Denver within walking distance of the Colorado Convention Center. Headquartered in Denver, Stonebridge Companies is the owner, developer, and operator of the new 22-story project that will add 382 guestrooms and suites to welcome guests to downtown Denver.
The dual-brand property broke ground in November 2017 and will include both a Tru by Hilton and a Home2 Suites by Hilton. The dual-brand concept provides larger, more enhanced communal areas and amenities than a standard, single-brand concept, benefiting both business and leisure travelers.
Tru by Hilton Denver Downtown Convention Center
Marking the first Tru by Hilton property within Stonebridge Companies' portfolio, Tru by Hilton Denver Downtown Convention Center will have 176 guestrooms with comfortable beds; smaller, more efficiently designed rooms with a mobile desk; large bathrooms with premium bath amenities; top-rated in-room entertainment; an open lobby with areas for guests to work, play games, eat, and lounge; and a 24/7 "Eat. & Sip." market with gourmet snacks and drinks. Technology will include mobile check-in, digital key, free WiFi, remote printing, a social media wall, lobby tablets, and accessibility to outlets. Additionally, the property will include a fitness center with barre, TRX bands, free weights, cardio, and flexibility gear.
Home2 Suites by Hilton Denver Downtown Convention Center
The downtown project will also include a Home2 Suites by Hilton with 206 suites. The mid-tier, extended-stay brand offers all-suite accommodations with fully equipped kitchens and modular furniture, providing guests the flexibility to customize their suites to their style and preferences. The hotel will also have complimentary Internet, communal spaces, and trademark Home2 Suites amenities such as Spin2 Cycle, guest laundry, a fitness area, and Home2 MKT for grab-and-go items. Home2 Suites by Hilton offers a pet-friendly environment.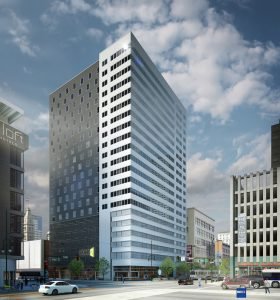 Planned to open in late 2019, the 22-story property is located on the corner of 15th and Stout Streets in the heart of downtown Denver. The property has designated lobby and dining areas and a variety of shared amenities including a fitness center, conference room, restaurant and bar, valet parking, and a 74,500-square-foot, five-story parking garage with 153 stalls.
With occupancy and demand continuing to grow in the downtown area, the infill development will revitalize the area of what was a former parking lot in the city's central business district. The project marks Stonebridge Companies' second dual-brand project in metro Denver, previously delivering the dual Hampton Inn & Suites by Hilton and Homewood Suites by Hilton property located three blocks away.
"Developing Stonebridge Companies' second dual-brand project in downtown Denver is a testament to our company's continued success in Denver and beyond," said Navin C. Dimond, founder, president, and CEO of Stonebridge Companies. "We are honored to introduce Hilton's respected Tru by Hilton and Home2 Suites by Hilton brands to the downtown Denver market while delivering upon our commitment to provide Distinguished Hospitality to our guests."