Hotel construction and renovation can be a daunting task. Whether an owner has been through it once, twice, or has not yet crossed that bridge, there is quite a bit to consider to ensure a project runs like clockwork. As with anything, pre-planning lays the foundation for a successful project and putting together a stellar team is an integral part of that process. Finding contractors who set realistic goals, stick to a budget, follow a timeline, and deliver quality work is easier said than done, but not impossible.
The practice of value engineering can be key to the success of cost-effective new construction and renovations. From securing vendors with qualifications and connections that will ultimately save time and resources, to global networking and smart sourcing, there are several factors to consider.
What is Value Engineering?
Value engineering (VE) is the industry practice of increasing the value of a desired product by reducing its cost, improving its function, or both. In the lodging world, a critical VE component is procuring substitute materials that meet the design intent. The alternative is cost-cutting through a focus on cheap labor and a less stringent focus on installation best practices. While that may keep costs down, it certainly doesn't provide value.
The right contractor can leverage supplier relationships to provide VE options that are within 99 percent of the original color, marbling, texture, and performance standards of the designers' preferred material, often resulting in significant savings without sacrificing quality.
Three Steps to Value-Engineered Savings
1
Keep Your Vision at the Forefront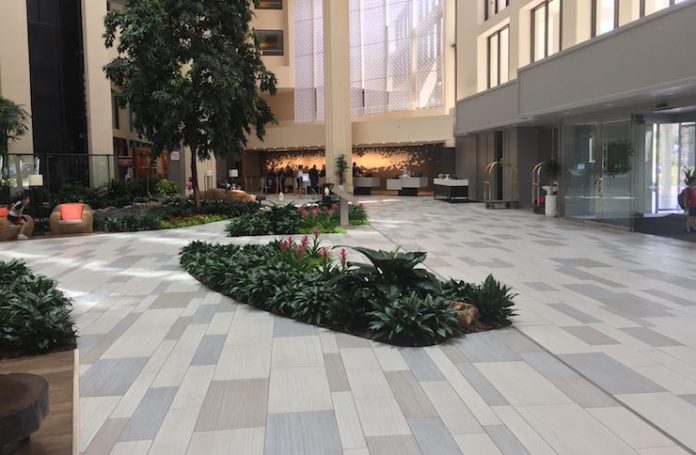 This Hyatt Regency Grand Cypress lobby project realized tile cost savings of more than 20 percent.
Designers stay on top of current trends and are skilled at crafting an aesthetically pleasing vision for a hotel that is uniquely suited to the project's location and guest needs. However, certain performance elements that contribute to the intended use or longevity of a product may not be top-of-mind for even the most seasoned designers.
That's where VE specialists come in. Once a design package has been specified, tile and stone vendors can renovate a sample room with alternate materials that maintain the chosen look and feel for a fraction of the cost. VE is not about sacrifice, but rather choosing the highest quality, lowest cost, and most durable alternative to match the original vision for the project.
It's important that hoteliers bring designers and contractors together from the get-go to ensure that all teams are on the same page. Making this connection early on will assure designers that their vision will remain intact while allowing contractors to get a head-start on seeking out VE-alternative samples for the project.
2
Select a Well-Balanced Material
Installation at the Orlando World Center Marriott
Project materials should strike the perfect balance of product affordability, practicality, and reliability. Before a contractor sets out to find the right VE supplier for a hotel project, they should take the time to evaluate the location and intended application of the material in question. Is the installation planned for a public or private space? Indoors or outdoors? What are the typical climate conditions? It's important to keep these questions in mind, as the secured material should wear well under foot traffic and be relatively low maintenance for property staff and managers.
Beyond these factors, potential liability should be a key consideration in the material selection process as well. Make sure contractors are paying close attention to the dynamic coefficient of friction—the measurement of resistance to slip accidents—for materials used in public and private spaces, both interior and exterior. Installing polished marble in the entry of a hotel will be visually stunning, but the odds of a slip-and-fall accident in a wet lobby are higher. The same standards apply for liability-laden areas like guest shower and tub surrounds, as well as exterior pool decks.
If the designer is in love with a specific stone-look installation, certain sealers or surface treatments can be used to improve the dynamic coefficient of friction. Additionally, there are many stone-look porcelain options on the market that can give the same look and feel with reduced maintenance and liability.
3
Realize Smart-Sourced Savings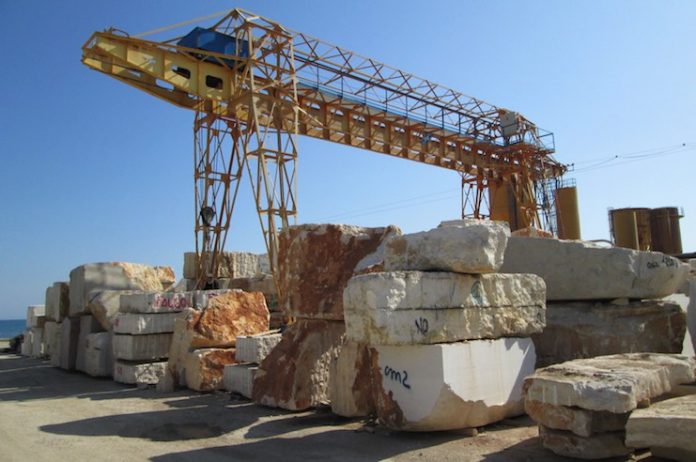 A supplier in Southern Italy
By sourcing tile and stone from all over the world, vendors can provide significant savings for new installations and renovations. Finding the right source for an alternative product is imperative, and that's where a global supply chain network—and contractors with those global connections—comes into play.
The preferred source location is most often directly linked with the quantity, quality, and price of a specified material. However, the availability and affordability of a product in a certain region does not necessarily mean all local suppliers are reputable. This is one more area in which the right contractor can make all the difference. To ensure product quality and longevity, partner with someone who makes site visits a priority—inspecting both the manufacturing facility and the finished project sites that use the material in question.
After assembling a team, considering elemental factors, and ensuring that the desired look and feel will not be compromised, it's time to move forward with confidence toward a successful renovation. Having value engineering on a hotel renovation and new construction checklist will keep the door open to maximum savings.