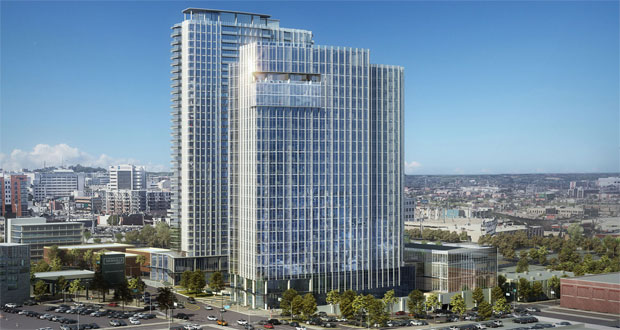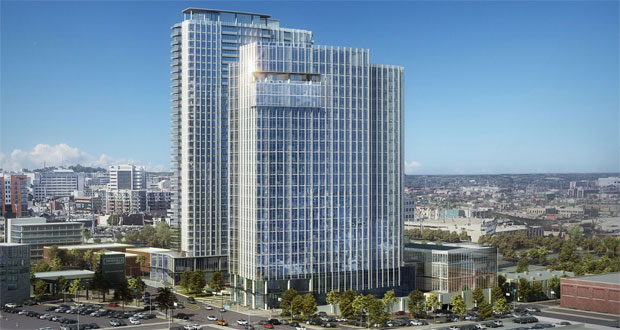 Nashville–Propst Development, LLC, a Huntsville, Alabama-based real estate and development company with projects across the Southeast, has revealed plans for Broadwest, a 1.2 million-square-feet, two-tower, luxury, mixed-use development where Broadway meets West End Avenue in Nashville. Chartwell Hospitality, the Franklin-based hotel operations and development company, will co-own and operate the 14-floor luxury hotel.
The first tower will have 21 stories with more than 510,000 gross square feet of Class-A office space. The second tower will be 34 stories tall and include a 14-floor, 245-room luxury hotel and 20 floors of approximately 220 luxury condominium units. Connecting the Broadwest towers will be an additional 125,000 square feet of office and retail space along with a one-acre park in the center of the development. Broadwest will also have one of the largest parking decks in Nashville with more than 2,500 spaces.
Propst Development has reviewed Broadwest plans with city staff and plans to file the final SP zoning amendment for the 3.9-acre site with construction beginning for the entire project in early fall.
"We are committed to building a world-class development with the quality and integrity reflective of Nashville, and we've assembled an exceptional development and construction team to accomplish this and bring Broadwest to life," says Chris Brown, principal of Propst Development. "This is a prominent site where the city's most well-known avenues meet, and we believe Broadwest represents the next evolution of Nashville's growth."
In addition to Chartwell Hospitality, Propst Development's partnership team for Broadwest includes: Parks Realty, the Nashville-based real estate agency, to lead condominium sales; Jones Lang Lasalle's (JLL) Nashville office to lead the Class-A office leasing; Cooper Carry, the global architecture and design firm, as the lead architects of Broadwest; Turner Construction Company and Hoar Construction as general contractors; and Premier Parking to oversee the parking component.
"A project of this magnitude is only possible with extraordinary partners like Cooper Carry, Turner, Hoar, and Jones Lang Lasalle, and we're thrilled to add Chartwell Hospitality and Parks Realty as the latest additions to our team," continues Brown. "We're confident this exceptional collection of leaders will help us bring our vision for Broadwest to fruition, creating an entirely new destination for Nashville."
Propst acquired the Broadwest site in March 2018. The site sits at one of the highest elevations in downtown Nashville, offering quick access to the interstate, and is within walking distance to neighborhoods including the downtown entertainment district, Midtown, Music Row, the Gulch, and the emerging Charlotte corridor.
"Propst Development's vision for this unique mixed-use project will set a new standard in Nashville, a city in which Chartwell Hospitality has significant experience building high-quality hotels," says Robert Schaedle, founder, president, and managing partner of Chartwell Hospitality. "We are honored to be selected as a partner for the hotel component of this landmark project and look forward to working with the Propst team to create an iconic luxury hotel for this site."
"Broadwest will provide a new point of connection to and from the neighborhoods that have turned Nashville into the thriving city we see today, and we're excited to lead the sales effort for the residential component of this project," says Zach Goodyear, managing broker at Parks Realty. "With a ground elevation starting nearly 40 feet higher than the Gulch and 100 feet higher than downtown, the views will be unparalleled from this location. Combine that with ease of interstate access, connection to hotel services and true rooftop amenities, you have something Nashville has been asking for, but has not yet seen."