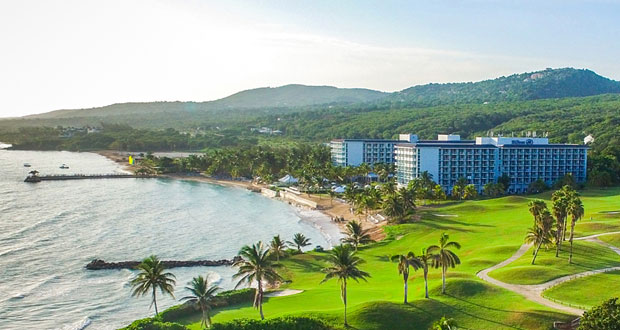 FAIRFAX, Va. and MCLEAN, Va.—Playa Hotels & Resorts N.V. and Hilton today announced plans to leverage Playa Hotels & Resorts' all-inclusive expertise with Hilton's global portfolio, and over 78 million participating members in Hilton Honors to accelerate the growth of Hilton's all-inclusive resorts.
As part of the alliance, by the end of 2018, two Playa resorts—the Royal Playa del Carmen and the Dreams La Romana—will be converted to Hilton all-inclusive resorts, with the potential for the conversion and management of eight additional resorts by 2025. The converted properties will allow guests to earn and redeem points through Hilton Honors.
"Our strategic alliance with Hilton is a win-win for both companies," said Bruce Wardinski, Playa's chairman and chief executive officer. "This alliance will empower us to reach more guests, on more occasions, and in more geographies, than ever before. We view this as just a first step toward what is possible as part of this strategic alliance, and Playa is thrilled to continue to grow along-side Hilton and our other world-class partners."
"At Hilton, we are dedicated to offering our guests the type of world-class hospitality that matters most to them, in the destinations they want to visit," said Christopher J. Nassetta, president and chief executive officer, Hilton. "Today we are pleased to begin our ambitious expansion journey with Playa. Together we are responding to our shared guests, who are seeking attractive resort offerings. And as our all-inclusive portfolio grows, so too does our commitment to world-class hospitality in the Caribbean and Latin America."
As a result of rebranding and renovations, as well as competitive discounting among peers in Playa del Carmen and Cancun, at the midpoint, Playa expects 2018 and 2019 EBITDA outlooks to decrease by $4.5 million and $26.0 million, respectively. The companies expect targeted stabilized cash-on-cash returns of 25 to 31 percent, on capital expenditure of $39,000 to $42,000 per key for the two projects combined.
Playa will commence management of Dreams La Romana as part of the transaction. The property will be rebranded as the Hilton La Romana, an All-inclusive Resort, by year-end.
The companies said that benefits of the alliance include increased brand and sourcing diversification and the ability to leverage the expertise and cost of Playa's existing loyal local and regional management teams.
"We look forward to capitalizing on the power of the Hilton brand, the strength of our respective development teams, and Playa's world-class all-inclusive management expertise, to accelerate the growth of Hilton's all-inclusive resorts," said Fernando Mulet, senior vice president, head of development at Playa.
Photo credit:  Hilton Hotels & Resorts