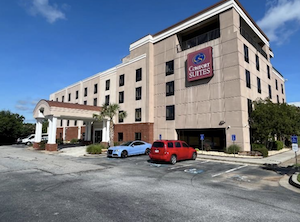 NEWPORT NEWS, Virginia—Mumford Company completed the sale of the Beckley, West Virginia-based Quality Inn and Atlanta, Georgia-based Comfort Suites.
In the sale of the Beckley West Virginia Quality Inn, Mumford Company represented the principals of Beckley Hotel Associates, LP. The deal was finalized in just 110 days from listing to closed sale. The purchaser, Humble Hospitality, LLC, is a multi-disciplined real estate developer and investor focusing on hospitality assets. Humble Hospitality plans to complete the limited renovations and will continue as a Quality Inn by Choice Hotels. Steve Kirby and Ed James, Mumford Company's managing principals, represented the sellers.

Kirby said, "We are fortunate to have worked with principals on both sides of the deal, multiple times over many years. Cooperation amongst those parties, the franchisor, and lender made for a smooth transaction from start to finish. Repeat business due to mutually desired results is Mumford Company's primary goal."

In the sale of the Atlanta, Georgia-based Comfort Suites, Mumford Company represented Atlanta 1 Hospitality, LLC in the transaction. The property was sold through the Ten-X auction platform where the firm has had experience. Kirby and James, along with Carter Willcox, senior associate, represented the seller. This Comfort Suites was the fourth completed transaction by Mumford Company with the principals in the purchasing group. Buyers intend to complete the product improvement plan and continue to operate the hotel as Comfort Suites, a brand under the Choice Hotels family.