Closing in on his second year as president and chief executive officer of Outrigger Hospitality Group, LODGING's 2019 Person of the Year, Jeff Wagoner, looks back on the 40 years that led to this position and ahead to how he is leading a storied "beach brand" above and beyond its iconic roots. His path began with a firm foundation in the hospitality industry—working at a total of 14 properties in countless capacities and "loving every second." Over the years, he has been witness to historic hotel milestones: he was at Marriott during his and that company's formative years; during four different Wyndham stints totaling two decades, he saw it through some of its most pivotal events; he was also with Starwood at the time of the Sheraton and Westin mergers; and just prior to assuming his current position, he was executive vice president of hotel operations at Trump Hotels.
Where did it all begin for you in the hospitality business, and how did it get you to where you are now?
My first taste of the hospitality industry came from spending time at the Marriott corporate offices in Bethesda, Maryland, where my mother worked for many years. Then, after my freshman year at Virginia Tech, I took a job at the 1,000-room Marriott in Los Angeles, starting on the overnight shift at the front desk. It was the first of five different Marriott hotels I had an opportunity to work in, which served as an amazing training ground; but when a resident manager there asked me to join him at Wyndham, I accepted. This role at Wyndham was my first of many positions during different iterations of that company, the last of which was president of the Wyndham Hotel Group management company and president of several of the Wyndham brands.
At each stage of my career, I made a concerted effort to glean every inch of knowledge I could from the opportunities presented to me. The combination of diverse work experiences and incredible mentors proved to be an essential part of developing a vision for the business and a sense of how to run a hotel successfully. I consider every experience I had in my career as a positive, all stepping stones leading to my role today at Outrigger.
What is your vision for Outrigger?
Building on more than 70 years of hospitality, I am honored to be part of the next chapter of Outrigger's story. The success of Outrigger Hotels and Resorts is legendary in Hawaii and the hospitality industry at large; it's a classic tale of innovation, dedication, and perseverance. But even before I arrived, the company was at an inflection point in terms of its future. After it was purchased in December 2016 by an affiliate of KSL Capital, a period of transformation began, with new thought processes, new leadership, and new capital coming in.
"We want to pay homage to the past—the iconic and historic company we have—but we need to move into the future with technology and modernization projects that promise to enhance the look and feel of our properties and our company."
In 2019, we restructured our company under the umbrella of Outrigger Hospitality Group, allowing us to focus on enhancing our current, multi-branded portfolio of beach resorts, hotels, and vacation condos while providing structure for the strategic growth of our brand. Outrigger now has 37 properties in some of the most pristine beach destinations in the world: Hawaii, Fiji, Thailand, Guam, Mauritius, and the Maldives. We know beaches, and we look forward to growing the Outrigger brand with more properties along the sands.
At Outrigger's recent global conference, where we brought leadership from every property here to Honolulu, the messaging reflecting our vision was "Evolution." We want to pay homage to the past—the iconic and historic company we have—but we need to move into the future with technology and modernization projects that promise to enhance the look and feel of our properties and our company.
My vision for Outrigger, and our collective company mission, is simply to be the premier beach resort brand in the world.
What steps have you taken so far?
We have already deployed $15 million on technology, some of which—like SONIFI in guestrooms and Zingle text-message concierge—are guest-facing. Behind the scenes are a new HRIS system with Workday, a new revenue management tool with Duetto, and we're about to roll out a new financial planning and reporting tool.
On balance, Outrigger now has the technology, tools, and revenue-strategy systems of the larger hospitality networks, but with the personal attention of a company that gives its heart and soul to its guests and partners alike.
As for physical improvements, we have just completed a $35 million transformation of the Waikiki Beachcomber by Outrigger and have launched a $250 million Waikiki modernization project spanning across our existing assets in Honolulu over the next three years. The highest priority from a modernization standpoint is the $85 million renovation of our flagship property, the Outrigger Reef Waikiki Beach Resort, one of only two fee-simple properties on the beach here in Waikiki.
We also just signed a purchase and sale agreement for an impressive new property on the Island of Hawaii that we expect to close in February 2020. This investment is significant because it's perfectly aligned with our goal to have more full-service resorts in Hawaii, and it is the first of many more beach resorts to come globally under the Outrigger umbrella.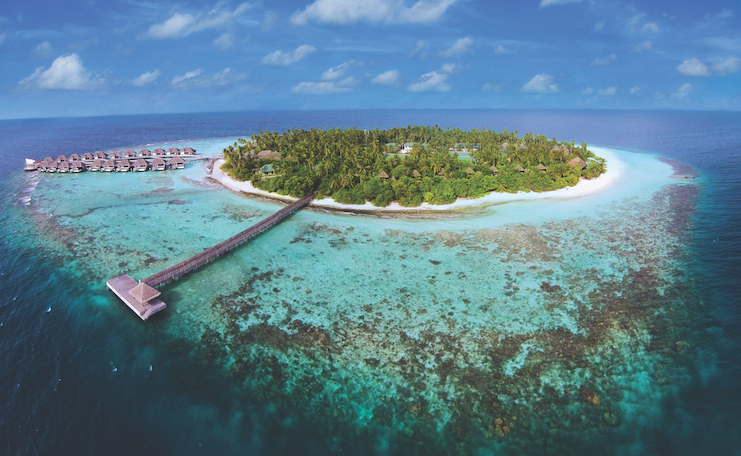 How are you meeting labor challenges plaguing the industry in general?
The company has had a great history of taking care of its employees, who we call "hosts"—some of whom have been with us as long as 45 to 50 years. Yet, we are also taking steps to bring in new associates and help some of our current employees move into leadership roles through efforts including the AHLA apprenticeship program. We also work with local high schools in Hawaii to make students aware of our industry and the viability of a career in it. Our summer internship program attracts college students from the mainland as well as Hawaii universities—some of whom come work for us after completing their education.
"The key to succeeding in good times and bad is to stay focused, do your absolute best every single day—with great service, teams, and leadership."
One of the really interesting programs launched about a year ago is called Project SEARCH. It brings in young adults with disability challenges as interns to help them identify positions they can fill in our industry so they can be part of the working world. Among the six in the program last year, we were able to hire one as an employee.
Are you concerned about the predicted "headwinds" facing the industry?
The key to succeeding in good times and bad is to stay focused, do your absolute best every single day—with great service, teams, and leadership. Simultaneously, we're of course proactively preparing for economic downturns in our industry. For example, it's very possible that the recent influx of supply will create a cyclical situation where supply grows faster than demand and decreases ADR. We're also prudent to keep an eye on the expense side of our business and make sure we're balancing our spending strategically to stay healthy as a company.
What do you like best about the hospitality industry?
You can't beat the hospitality business. I love how passionate, hard-working individuals can move their way up and create a wonderful career. For me, every day is a great day— even when things don't go as planned. We're fortunate to be around people who are positive and upbeat. Some Outrigger guests wait a lifetime for a vacation at one of our iconic resorts; being part of an experience that they cherish forever is inspiring and something you feel really good about. Honestly and truly, I love this business and am grateful for the ability to give back to our guests, our hosts, and the place.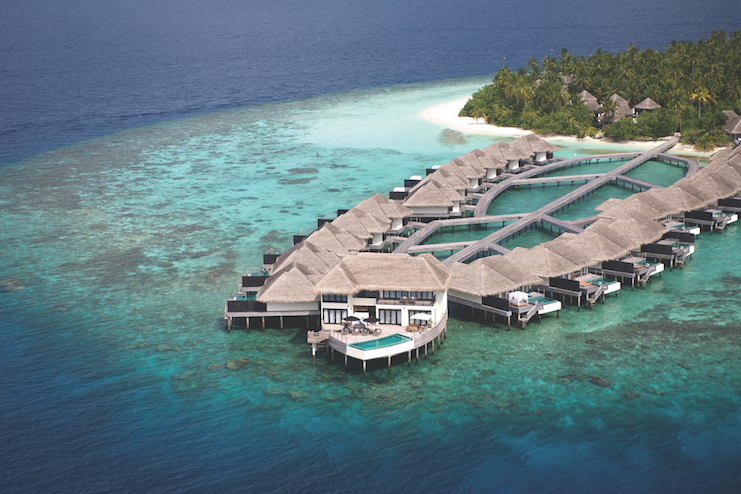 A Sense of Place
As the president and CEO of a premier beach resort brand, Jeff Wagoner recognizes that the company's link to the ocean is unbreakable and views stewardship of the sea as a responsibility that is aligned with the company's mission.
"Outrigger Resorts is a toes-in-the-sand brand; we're passionate about taking extraordinary care of the oceans that surround our properties and providing hands-on educational experiences for our guests so they are inspired to conserve our natural environment," he says.
Among the many "Outrigger Outreach" community initiatives, a core element is saving coral reefs—the rain forests of the sea. "Outrigger's ZONE—called OZONE—is a global conservation initiative centered on protecting the health of coral reefs and the oceans surrounding our beautiful beach destinations. In an effort to save this precious resource, we have planted, protected, and preserved more than 100 football fields of coral since 2014 and are proud to be one of the first hotel brands to promote the benefits of reef-safe sunscreen."
Also under the umbrella of OZONE, he says, is work done by the different properties in their respective communities. "We're doubling down on Outrigger's social responsibility platform and have OZONE Ambassadors at each property to help lead localized initiatives that are meaningful to improving our communities. Empowering our leadership team to make decisions based on both economic and environmental benefits has led to some phenomenal property enhancements that collectively make a huge impact," he says. Just a few among them are: a reverse osmosis water plant and tree plantings in Thailand; clam and coral nurseries in Fiji; a partnership with Waikiki Aquarium and achieving Green Business Status in 2019 in Hawaii; guest coral planting and a water desalination plant in Maldives; beach clean-ups and an UnderWater World partnership in Guam; and planting endemic plants, monitoring and protecting coral, and monthly beach clean-ups in Mauritius.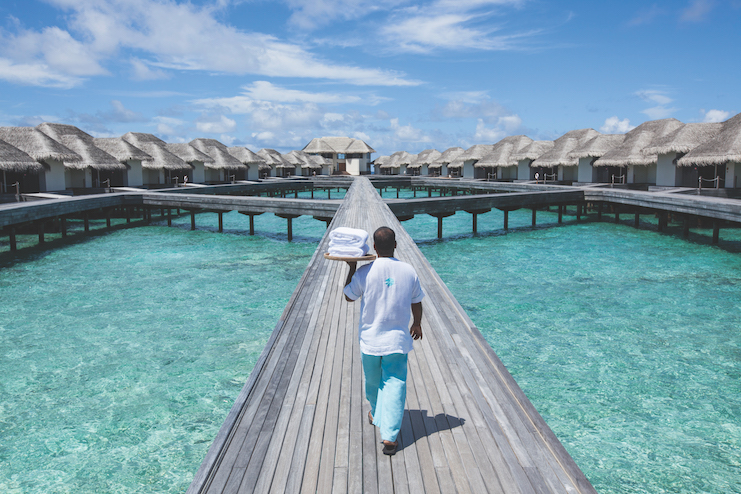 A Plan to Succeed
Outrigger Hospitality Group president and CEO Jeff Wagoner says the past success and unsurpassed beauty of the Outrigger destinations alone can't achieve their official mission "to be the premier beach resort brand in the world."
To develop an effective internal strategic plan for the company, he convened a committee certain to bring together diverse viewpoints. "This was not just senior leadership. We wanted different perspectives based on the input of employees—both new and longstanding as well as our leadership team," he describes. Together, he says, they developed a strategic business plan summarized in the goals listed below, which are laid out in the Mission-Culture-Values card given to all guests.
Best-in-class operations and revenue operators
Exceptional partnerships that strengthen partner and community relations
Property elevation and quality renovations
Growth with new properties and distribution
Create brand value
He notes, too, what is called The Outrigger Way—now celebrating its 25th year—which was refreshed to be in line with the above goals. "The Outrigger Way is our corporate compass, our guide to the actions of individual hosts and leaders, and is expressed in ways that embrace and celebrate the culture in each country where we do business. It's a tripod of characteristics that define our culture: (1) caring for our hosts; (2) caring for our guests; and (3) caring for our place—guided by our values of celebration, accountability, relationships, and excellence."
---
Like this story? Subscribe for daily updates.