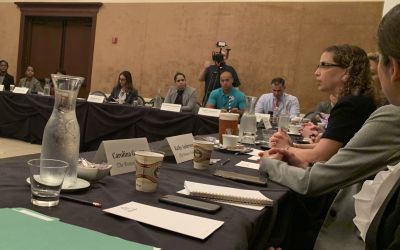 WASHINGTON — The American Hotel & Lodging Association (AHLA) today released the following statement after participating in a human trafficking prevention roundtable hosted by Congresswoman Debbie Wasserman Schultz (FL-23).
"As Human Trafficking Awareness Month comes to a close, we were honored to join Congresswoman Debbie Wasserman Schultz (FL-23) at a roundtable to discuss ways industry and government can work together to combat human trafficking," said Chip Rogers, president and CEO of AHLA. "As a private industry leading the fight to end exploitation through our pivotal No Room for Trafficking campaign, we are grateful for Representative Wasserman Schultz's attention to this critical issue and we are proud to work together in our shared commitment to end trafficking."
"Earlier this month the hotel industry also joined forces with Florida lawmakers, local law enforcement, and the key stakeholders including the Super Bowl Host Committee in Miami to highlight the importance of partnerships and raise public awareness ahead of Super Bowl LIV," Rogers continued. "During the event, we trained over 200 local hoteliers on prevention as part of our campaign goal of training every single hotel employee. Eradicating exploitation takes coordination across all levels, and we look forward to working with all members of Congress to end this horrific crime."
---
Subscribe to Lodging Daily News for updates.