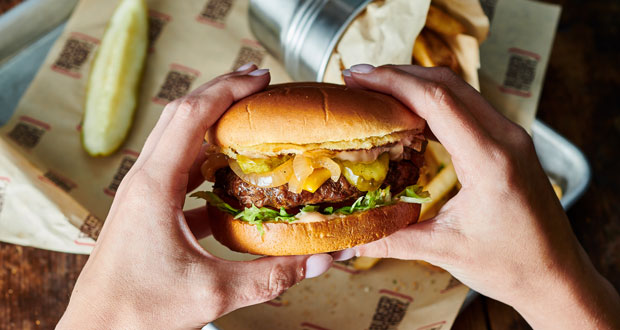 National Cheeseburger Day on Sept. 18 glorifies one of America's most famous food staples, and Holiday Inn's Burger Theory brand is giving guests a reason to celebrate. All 25 Burger Theory restaurants in the United States and the one in Canada are having a 10,000 Classic burger giveaway, as well as selling a limited-time creation called The Cheese Louise. Jason Dowd, head of global food and beverage, mainstream brands, at IHG says, "This is right in the wheelhouse for Burger Theory. National Cheeseburger Day is a way for us to be able to connect more with our guests around something near and dear to our hearts–good cheeseburgers."
Burger Theory is a better-for-you burger concept, with each location featuring craft beers from local breweries. While kids always eat free, today dine-in visitors are eligible to receive one of the 10,000 free cheeseburgers, which are one per customer and available on a first-come, first-serve basis. With an exterior entrance, non-hotel guests are also able to take advantage of the offering. Dowd says the Classic burger being promoted is his favorite, topped with caramelized onions and American cheese.
But the celebration doesn't stop there. Burger Theory is implementing an offering called the Cheese Louise, which is "our straightened approach to an over-the-top, indulgent cheeseburger." The Cheese Louise is filled with a proprietary blend of certified Angus beef, taking two patties and stuffing them with American cheese. Melted cheese is then added on top of the two patties and also on the bun. Burger Theory's Killer Good Burger sauce, shredded lettuce, and tomato slices top it off.
The Cheese Louise promotion runs through November 11th, but Burger Theory, as Dowd says, "has always got innovation cooking in the kitchen." Burger Theory has partnered with spirit and beer companies in the past for drink pairings and plans to continue searching for these partnerships in the future. Dowd adds, "We look across the landscape and see what is new and fresh that we can make into a Burger Theory offering, whether it be a new sauce or flavor profile. We're always playing around in the kitchen."
The brand invites individual Burger Theory restaurants to customize their marketing strategies and offerings on the Create-Your-Own menu. Brand-wide, there are over 4,000 combinations that can be created. Restaurants can also add demographic offerings, too–for example, coastal burger theories can serve fish tacos if enough guests will order it. "A lot of individual franchisees are running the Burger Theory restaurants. They are very active in the social media space and are always looking for a good angle to get involved in their local communities," Dowd says.
Dowd has a piece of advice for hoteliers considering implementing hotel restaurant concepts that bring in locals: "To be a successful restaurant, you have to be able to engage the local area. The way we do that at Burger Theory is make those important partnerships and highlight the key vendors in an area, like with craft breweries. It's reaching out to people in the local geography, giving them a voice, and celebrating the work they do."