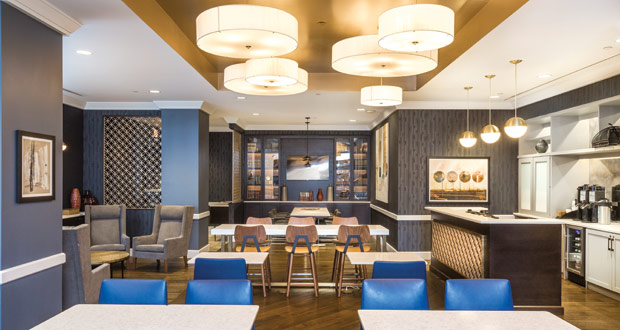 During the mid-20th century golden age of leisure, the town of Oak Brook Hills, Ill., was a polo club for elite Chicago travelers looking to escape for a weekend. Affluent Chicagoans would visit the club not only for its tennis, golf, and polo, but also for its live entertainment and proximity to the center of the growing automobile industry. As Oak Brook Hills developed into a Chicago suburb, the Hilton Oak Brook Hills Resort underwent many changes, including a $20 million renovation.
Prior to modifications made by the design company O'Kelly+Kasprak, the property's highly saturated color palette and architectural elements blocked exquisite golf course views. Bringing the property back to what felt like the original architecture, the O'Kelly+Kasprak design team enhanced the contrast of textures and finishes for a cohesive mid-century modern flow between the lobby, lounge, restaurant, and guestrooms. The property's textures and fabrics take inspiration from mid-century fashion, using plaids and pleating from men's and women's clothing to add modern context. Belinda O'Kelly, partner of O'Kelly+Kasprak, led a team in creating the architectural and design elements of the property. She describes, "It's rare when you get an opportunity to slowly renovate an entire hotel. It's like eating an elephant one bite at a time. You have to challenge yourself to stay focused on the original design concept and continue that execution."
Contrasting Colors
The Executive Lounge has an intimate and elevated aesthetic, seen in the contrast of the dark blue walls to the stark white ceiling, as well as the visual pops that come from smaller details. "We wanted to provide a high level of glamour so that the details—like the metal finishes—had some pizzazz," O'Kelly says.
Relaxing Lighting
Circular centerpiece lights give the Lounge a modern element but open up the space. O'Kelly says, "Over the seating area, we wanted to create more intimacy. We decided it was ideal to drop the lighting level and create a soft plane above the dining seating."
Transformative Bar
An exclusive bar serves coffee in the morning and liquor at night to clientele, with entertaining displays changing throughout the day. O'Kelly explains, "When breakfast is served, it becomes a higher-end coffee bar. Then, there are evening events and a cocktail hour that begins at 4 o'clock."
Executive Ease
Offering an environment conducive to both meetings and meals, the Executive Lounge mixes lounge and table seating, thus creating a space where business travelers can work and leisure travelers can relax. O'Kelly says, "The design of the Executive Lounge is about creating flexibility and different zones in a fairly small space."