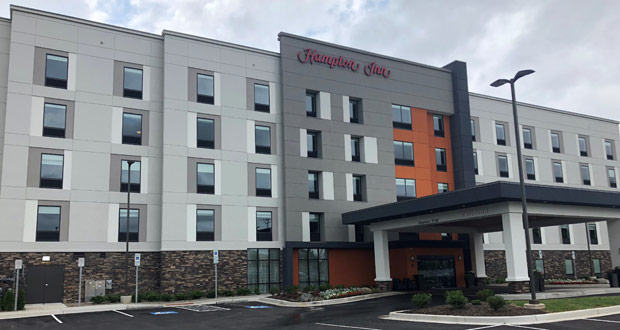 MCLEAN, Va.–Hampton by Hilton announced the opening of five new properties, including Hampton Inn by Hilton Baltimore Bayview Campus in Maryland, the first to open incorporating features of the brand's new prototype design. Other notable openings include Hampton Inn & Suites by Hilton Ruidoso Downs in New Mexico and Hampton Inn & Suites Detroit Allen Park in Michigan. These latest openings add to the brand's growing global portfolio of more than 2,380 open properties with an additional 620 in the pipeline.
"Hampton's adaptable building models allow owners the flexibility to introduce our hotels into a variety of markets while delivering the warm and welcoming brand experience travelers expect when staying at one of our properties," says Shruti Gandhi Buckley, global head, Hampton by Hilton. "Our new prototype, incorporating the latest architectural trends, showcases our commitment to innovation and driving a strong ROI for owners."
Maintaining the momentum from the first half of the year, Hampton by Hilton started the third quarter by expanding its presence in China with the opening of the Hampton by Hilton Hinggan as well as several new hotels in the United States. These include the following:
Hampton Inn by Hilton Baltimore Bayview Campus
An early adopter of Hampton's new innovative design, and the first Hampton to incorporate elements of the new prototype, this location is minutes from Johns Hopkins Bayview Medical Center and has convenient access to Baltimore's Canton waterfront, Harbor East, and Inner Harbor neighborhoods.
Hampton Inn & Suites by Hilton Ruidoso Downs
This recent conversion provides easy access to New Mexico's Lincoln National Forest, camping, and fishing, and adventures like the world's longest zip-lining tour at the nearby Ski Apache.
Hampton Inn & Suites by Hilton Detroit Allen Park
Located minutes away from downtown Detroit as well as attractions like Ford Field and Comerica Park, this property offers easy access to a variety of entertainment options.
Hampton Inn & Suites by Hilton Dallas/Plano Central
Situated in the heart of Plano, Texas and near the Richardson technology corridor, the hotel is also within minutes of many restaurants and retailers including the Shops at Watters Creek.
Photo: Hampton Inn by Hilton Baltimore Bayview Campus in Maryland