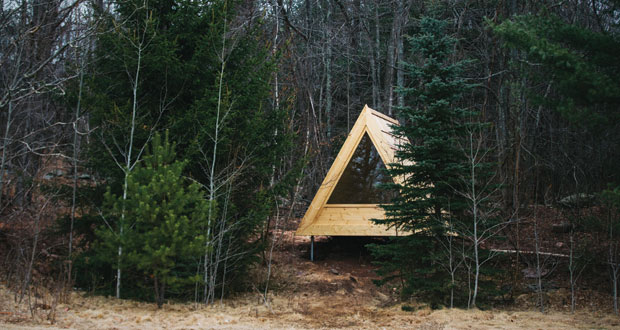 Guests with a love for the outdoors but not for the "roughing it" kind of camping can go "glamping" at Eastwind Hotel & Bar. Located in the Catskill Mountains, the former bunkhouse, which was built in the 1920s and known as a retreat for outdoor enthusiasts like hunters or fisherman, has been transformed into a boutique hotel.
The Eastwind is open year-round and offers an upscale outdoor experience. The 19 accommodations include four room types with a sleek design and minimalist approach that gives off a modern vibe. The Bunk House—the heart of Eastwind—contains the main lobby, 11 guestrooms (two of which are "Writer's Studio" suites), and an outdoor deck with a fire pit on the lawn. It also houses the Salon, a gathering space where guests can grab an espresso or a crafted signature cocktail.
The Bunk House floors are made from reclaimed wood from the original structure, the walls are decorated with black-and-white photography, and the rooms contain modern chairs, Turkish rugs, communal tables, and a Malm fireplace. The Hill House building has five ground-floor guestrooms. The Lushna Cabins, wooden A-frame huts, make for a more reclusive "glamping" experience and are based on the Scandinavian notion of camping without sacrificing comfort. Outdoor essentials—like snowshoes, rain boots, and backpacks—are available for guests to borrow at no charge.
Windham, New York is about a two-hour drive from New York City. This property is the first for founders and hoteliers Bjorn Boyer, Julija Stoliarova, Daniel Cipriani, and John Burnett.
[slideshow_deploy id='40404′]