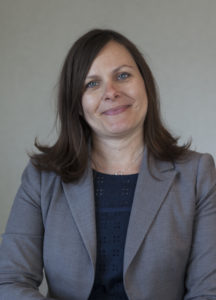 Kimberly Gagnon has been with Merrillville, Ind.-based White Lodging Services for 18 years now—14 of them in Austin, Texas, and three in San Francisco. Yet, she says, when discussion arose about making her the opening general manager of "an amazing new property"— the dual-branded Hampton Inn & Suites and Homewood Suites at Teaneck, N.J.—"I jumped at the opportunity."
Now installed on the premises there as GM, Gagnon says her responsibilities include the day-to-day operation of the hotels as it relates to financial and market share results, guest satisfaction, and brand alignment as well as hiring and retention of associates.
Gagnon described for LODGING how this particular property is a radical departure from traditional focused-service hotels offering little more than comfortable rooms and brand-standard amenities, and why it is an especially attractive player in the leisure market as well as SMERF markets—which stands for Social, Military, Educational, Religious, and Fraternal.
Gagnon says the Hampton Inn & Suites and Homewood Suites at Teaneck does offer the expected amenities—free breakfast, free parking, and free WiFi—but with some unexpected differences that enable it to stand out and branch out. "First, it's a high rise, with an all glass exterior and floor-to-ceiling windows with views of Manhattan. Also, while the typical focused service hotel has very limited public space and no meeting space, our whole first floor is all public space at this location." That space, she says, includes a 1,200-square-foot meeting room called The Bridge Room, which can comfortably accommodate up to 80 people, a bar on the Homewood Suites side, and a spacious lobby with high ceilings and great lighting. There are also three outdoor seating areas with soft seating.
Noting that those seeking accommodations for events such as weddings, school band trips, and family and military reunions are often budget conscious and may have a wide range of hospitality needs, she says—between the two properties—the varied room configurations and flexible spaces can meet the travel and budgetary needs of any group or individual traveler. The Hampton Inn and Suites has 190 rooms; 150 are standard–either with two queen-szed beds or a king-sized bed. Another 40 can be categorized as junior suites; in addition to the two queen- or one king-sized bed, they also have a pullout sleeper sofa, a wet bar setup—with refrigerator, microwave, and coffee maker. "This is nice for people coming and staying three to four nights. Those who want to still maintain a healthy lifestyle can put snacks in the refrigerator; they can also bring home leftovers to warm up in the microwave." Noting that the Homewood Suites is an extended-stay product designed mainly for business situations such as relocations or extended projects, it is nonetheless suitable for those—such as families—who prefer more of the comforts of home.
Opportunities to meet and socialize—in the Bridge Room, lobby, or outdoor areas—observes Gagnon, broaden the appeal of this property. Its resources, she adds, can be enhanced via a cooperative arrangement with the Marriott across the street—which is owned and operated by the same owner; it offers added room capacity, and has 26,000 square feet of meeting space.
Then, too, apart from the attributes of the property itself, its location is a key selling point to all leisure markets. "We have access to three major airports and are just 4 miles from the George Washington Bridge—so, we're minutes from New York and all it has to offer. Then, on the New Jersey side, we're just a few minutes from Met Life Stadium, and there will soon be a new retail and entertainment development called American Dream."
Gagnon says the Hampton Inn & Suites and Homewood Suites at Teaneck's design, location, and public spaces add up to an extremely strong new player in its market. "The biggest thing is this new hotel offers a fresh new hospitality experience as it relates to the typical focused-service hotel," she says.