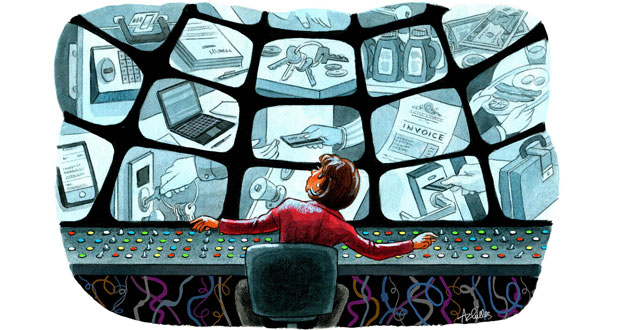 It can be said that fraud is the second oldest profession in the world: After all, where there's money, there's money to steal. It's also an unfortunate reality that dishonest employees exist in all companies, and the hospitality industry is no exception. Occupational fraud—also called internal fraud—is one of the most costly and pervasive threats to businesses today.
According to the Association of Certified Fraud Examiners (ACFE), occupational fraud is the use of one's occupation for personal enrichment through the deliberate misuse or misapplication of the organization's resources or assets; in other words, employees who steal cash or goods for personal gain. It's important to note that fraud can occur at any level and in any department, from housekeeping to the front desk to the bar staff to the GM. Add to that the hospitality industry's notoriously high employee turnover rate, and the likelihood of fraud increases. Internal fraud not only impacts hotel revenue, if gone unchecked, it hurts the property's reputation and destroys employee morale. That's why a critical step in reducing the likelihood of employee fraud is setting the tone at the top and establishing a culture of honesty and ethical behavior that sets the example for everyone in the hotel.
Management cannot underestimate the impact principled leadership can have in preventing internal fraud. No one sets out to hire a dishonest worker—in fact, the most adept fraudster is frequently a beloved employee, not someone who has a grudge or vendetta against an employer. Moreover, although individual hotel departments have different opportunities for employees to steal, nearly every fraudster has these three common characteristics:

He or she is a trusted, tenured 
employee

The employee often works independently or with very little oversight

The employee's lifestyle does not match his or her known income level
The three categories of insider fraud include: corruption, financial statement fraud, and asset misappropriation, which is the most common and accounts for 89 percent of all fraud.
Described below are seven of the most common asset misappropriation types in hotels, and actionable steps to reduce their likelihood.
Inventory theft
From towels, sheets, and bedding to liquor and expensive meat and seafood, hotels typically have large quantities of stock on hand. In a busy hotel, it can be easy to miss a robe, towel, or a few tenderloins. One of the easiest ways to control inventory fraud is to split inventory responsibilities so that different employees are responsible for ordering, receiving, and distributing the goods. Consider performing regular cycle counts of inventory, and be sure to follow up on discrepancies in those counts.
Cash skimming
Hotels have many places where employees can steal cash. For example, a customer pays cash for a drink and tip, and the employee simply pockets the money instead of ringing up the sale. Because this type of fraud is considered an inherent risk in the hospitality industry, it can be especially difficult to detect. One way to uncover cash skimming is to monitor inventory. For example, flat sales and rising inventory costs are an indicator of fraud. Consider installing security cameras where sales take place.
The short ring
Another method of cash skimming is the "short ring." For example, a customer orders an Absolut and soda for $12, but the employee rings it as $7, pocketing the difference. In addition to surveillance, one of the best methods of short ring prevention is the use of an up-to-date POS system that prevents zero-ring sales, voids, or overrides without manager approval.
Credit card theft
Many hotel employees have access to company and customer credit cards and may misuse them for personal purchases.
Padded expense accounts
Many hotel properties offer full-service sales and catering support, and typically, the executives who handle these affairs have a certain amount of flexibility in expensing meals or entertaining VIPs. To help prevent fraudulent expense reimbursements, match employee mileage to a third-party map website to double check exact distance, and require staff to provide itemized receipts associated with legitimate business purchases.
Refund fraud
An accounts receivable employee who processes guest refunds could divert the money to his or her account by forging manager approval or even issuing fake refunds altogether. It is essential to follow all procedures and make sure refunds are legitimate and credited to the original form of payment.
Time theft
Time theft happens when an employee is paid for work they haven't done, or for time on the clock when they weren't actually working. To avert the potential for time fraud, individual supervisors should review an employee's time sheets. Employee productivity should also be analyzed; if staff members are on their cell phones or chatting with coworkers, work may not be completed in the time allocated for the task. If low productivity is suspected, managers should provide direct oversight or frequently check in to monitor progress.
The best way to prevent employee theft is for managers to set expectations, oversee employee conduct and performance, and be present and vigilant in hotel operations. By recognizing occupational fraud schemes prevalent in the hospitality industry, as well as implementing proactive controls that can mitigate the likelihood of employee theft or embezzlement, hoteliers can protect their properties from financial loss and damaged reputations.
About the Author

Tiffany Couch, CPA/CFF, CFE, is CEO and founder of Acuity Forensics, a nationally recognized forensic accounting firm. She is also the author of "The Thief in Your Company," a book that explores the financial and emotional impact of fraud on organizations of all sizes. She can be reached at tcouch@acuityforensics.com or 360-573-5158.